Introduction
Here is a concise guide to the features of the polciv.org website that support discussion and debate.
This site has some distinctive underlying features due to its integration with an 'argument mapping' tool. Here's an example of a map from a pilot online debate of the Blackheath Philosophy Forum (which is best viewed on a large screen).
These mapping features are not described in detail here, but will be introduced in future posts as interesting discussion threads build around the articles.
Contacting us
If you have comments or queries or strike any difficulties or bugs select Contact us on the menu that appears when you click the head icon at the top-right of every page.

Joining the site
To participate in discussions on this site, select Signup from the menu when you click the head icon at top-right of every page.
Within a few minutes of submitting the signup form, you should receive an email with some particulars and a confirmation link.
Clicking the confirmation link completes the sign up process and returns you to the page where you signed up, logged in and ready to contribute.
You can update your account at any time by selecting Account from the top-right menu.
There is a slightly different process if you come to the site by responding to an emailed invitation (see next section).
Inviting others
Once you are signed up, you can invite others to any article that you find interesting.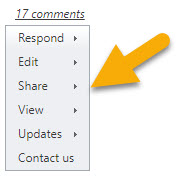 To do this, use the Share menu that appears to the right of every article and select Invite (this will be visible but disabled if you are not logged in).
A link is then generated and displayed, that you click and copy to include in emails or social media posts. When someone clicks on the link, a simplified signup form appears with a personalized message that reads:
Welcome! [Your name] has invited you to participate in this discussion.
When the invitee submits the signup form, a confirmation email is posted that also includes a URL that allows the invitee to send a personalized invitations to others, in turn.
Participating
There are three ways you can contribute to the discussion about an article:
By posting comments in the familiar way, with some additional features specific to this website.
By adding citations that point to item on the web, or documents you upload to the site.
By posting a 'responding article', which can be long or short, that you can edit with the online word processor integrated into the site. This allows you to include hyperlinks, images, embedded videos and citations.
These options are described in the following three sections.
Commenting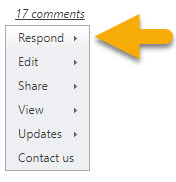 To post a comment, select Add a comment from the Respond menu to the right of the heading on every article page. This scrolls you to an open comment entry form below the article (this menu item will be visible but disabled if you are not logged in).
Alternatively, click the Add a comment link at the bottom of each article.
Below each posted comment, there are additional links:
Click Reply to reply to any comment.
If you are the author of a comment, there are links to Edit and Delete it.
Click Share to get a URL that links directly to the comment that you can share with others. When the link is clicked it scrolls to the comment and highlights it.
You can also open a comment entry form in situ while reading an article by clicking on the article body. This is a convenient way to comment without losing your place on a long article.
In addition, if you want to refer to a specific piece of text in an article, just select it. The comment entry form then opens populated with the selected text, which will appear italicized once the comment is entered preceded by 'Quoted'.
You can be get a bird's eye graphical view of complex debate threads by selecting one of the formats under the View menu. Roll over each element in the graph to see the first few words of each comment. Click an element to see the full text displayed on the right-hand panel.
Adding citations
If you want to point to an item on the web (article, website, video, etc) that bears on the discussion about an article select Add a citation from the Respond menu.
This opens the citation entry form. Complete the required and optional fields, including a URL for the item. You can include a summary of the document, or a brief description of its relevance.
You can also upload a document (in common formats like Word or PDF) by clicking the Upload file button on the form. This stores the document on the polciv.org website, and automatically generates a linkfor it which is inserted in the URL box.
Citations can be viewed below the article by clicking the Citations link.
This the basic information about citations – additional features will be described in a future post.
Posting a responding article
In addition to adding comments, there is the option to respond to an article with your own article. Others can in turn post an article responding to yours, leading to article threads in addition to the familiar comment threads.
To post an article, select Reply with an article from the Respond menu . You are then scrolled to the article submission form that opens below the article you are responding to.
You enter a title for the article, which is required (up to 70 characters). Optionally you can also enter a short text that summarizes your article (up to 500 characters). This can be used to display an abstract, author information oranything else you choose.
You will notice a colour key just below the summary entry box. This allows you to characterize your article as expressing support or opposition to the article you are responding to, or raising a query about it.
There is also the option to add a discursive article, without flagging a definite attitude. This is the default option. Click the colour key to choose the kind of article you want to add (the colour coding is helpful in graphicalviews).
Below the colour key is an online editor where you can post and edit the body of your article. This provides full word-processing functionality, including the ability to format your text and add hyperlinks, images, embedded videos andother features.
If you want, you can directly edit the HTML by selecting the HTML tag below the online editor area (any script tags are automatically removed).
After you click Save you can re-open and continue to edit your article at any time. Next time you open a saved article, the Edit menu at top right is enabled, allowing you to edit or delete the article.
Notice also that after re-opening the editor an additional option appears above the online editor that reads 'Prefer more work space? Try the big editor'. Clicking on big editor opens the body of your article in afull-page size editing space. This is a convenient option when working on long articles.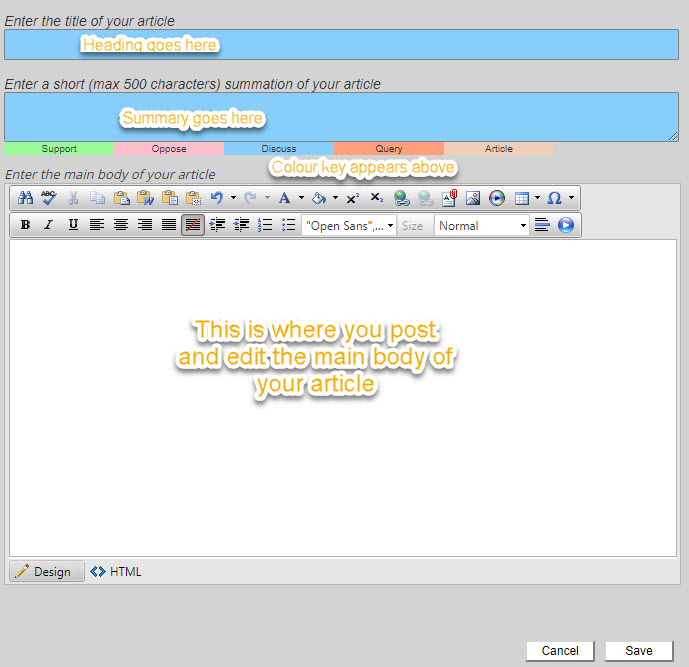 Updates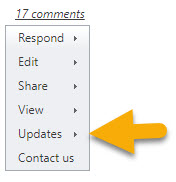 When you sign up on this site, you will automatically receive a regular email digest of announcements and new articles posted on the site. There is an Unsubscribe link at the bottom of each digest, as well as an option to switch to a weekly digest.
The digest includes a summary of each article, as well as links to read the full article online. If you follow these links, you are automatically logged in and ready to respond.
If you want to also receive a daily digest of updates to a specific article (including any new comments or citations), go to the article page, roll over Updates on the right-hand menu and select Subscribe to updates (disabled if you are not logged in)
You will then receive a daily digest, that you can unsubscribe from at any time, or switch to a weekly schedule.
There is a further option on the Updates menu to immediately request updates for the article for the past day, week, month, or year.
Related articles
Immediately below every article is a RELATED ARTICLES menu, that includes links to any responding articles or in the case of a responding articles, any other responding articles as well as the article responded to.
---